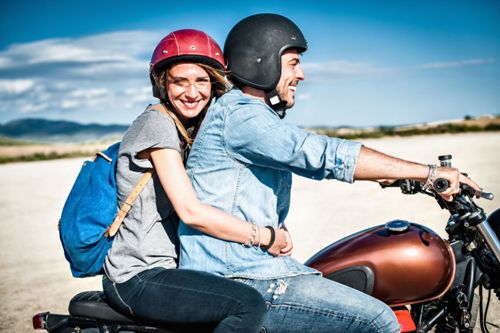 Everyone who has motorcycle needs proper insurance to cover it, and GEICO has long become one of the most famous motorcycle insurance providers in the US. What started as military member car insurance in 1936 has developed into big insurance company that serves civilians and military members. GEICO now provides various insurance coverage types, including for motorcycle. While its motorcycle insurance policy has been around since 1978, you still need to review what GEICO offers to make sure that it covers what you need.
Motorcycle Insurance Coverage from GEICO
Just like its options for car owners, GEICO insurance also offers various coverage options for motorcycle owners. Here are coverage types GEICO offer for motorcycle owners:
Collision coverage.
This is a coverage type that covers damage or physical injury from collision with other vehicle. This is particularly useful if you drive the motorcycle often. Each state in the US has minimum liability limit for collision coverage, including for motorcycle owners.
Comprehensive coverage.
This coverage covers damages that happen from non-collision accidents, such as from vandalism, theft, fire, fallen branches, and many other risk factors. This is great if you often store your motorcycle in a long time, or if you are worried about weather-related damages.
Physical injury liability.
This coverage gives minimum liability to any physical injuries or death resulting from accident that involves you and other people, in which there are people or person getting injured or killed.
Personal Injury Protection (PIP), Medical Payment, No-Fault.
These three coverage types are grouped into one category, because all of them protect you in the event of accident. Also, they are very useful if you experience accident that also involves your motorbike passenger.
Underinsured/Uninsured Motorist Coverage.
This coverage covers you when you are involved in motorcycle accident but other people involved don't have insurance. When the uninsured people are not be able to cover the injuries or damage, this coverage type will work specifically to cover the expenses despite the other driver/rider having no insurance.
Accessories coverage.
Motorcycle accessories, especially the high quality ones, can be expensive to replace. GEICO insurance provides coverage for various motorcycle accessories such as helmets, seats, backseats, CB radios, chrome pieces, and the saddlebags. However, you must have at least collision or comprehensive coverage to get this coverage type.
These coverage types are standard in various insurance companies, but GEICO provides even more options in discount and payment options, making GEICO one of the most affordable and flexible motorcycle insurance providers in the US.
GEICO Motorcycle Insurance Discount and Payment Options
Flexible payment and discount are always the best features in GEICO motorcycle insurance review. GEICO provides various payment methods and schedules that each policy holder can adjust to payment plan he or she thinks the best. For example, GEICO allows policy holders to pay from various methods such as online payments, electronic transfer, direct checks, credit card, debit card, automatic installment, and even high-tech options such as interactive voice response (IVR) system. GEICO also has option for electronic payment statement instead of paper bill. The payment can be in monthly system, 4-payments, 6-payments, 9-payments, or full yearly payment, depending on your financial ability.
Motorcycle insurance from GEICO also offers various discounts. For example, if the policy holder already has car insurance, he or she can get extra discount if adding motorcycle policy. People who are over 40 and 50 years old also have better chance to get Mature Rider Discount, since they are considered less risky compared to younger riders. Other discounts include discount for riders who have completed safety riding course, riders with multiple motorcycles, and transfer discount for those who switch their previous insurance policies to GEICO.
GEICO Insurance Considerations
There are some considerations regarding of GEICO service. For example, if you get the policy through local agents, you probably will not get all the services described. Also, depending on where you live, you may not always get the discount type you expect. If you have specific requirements that need to be fulfilled with specific GEICO coverage types or discounts, you may want to ask specifically to local agent or office about the availability of those options.
Despite these shortcomings, GEICO is still considered one of the best insurance providers in the US, including for motorcycle owners. The flexible payment options and numerous discounts provide extra benefits for people from various walks of life. GEICO motorcycle insurance is a good option if you need insurance with flexible payment options, good customer service, and high reputation.